In 2009, Froggy did tell about a heavy he was building. And when some promised bits didn't show up, a few of the Dutch (and 1 Belgian) roboteers (thanks Kos and Inventor) dove into the CAD programs, lasercutters, gearmilling machines, TIG welders and so on. This cumulated to Bullfrog Breed, Tony's brainchild, and hard work with is tools, combined with Dutch/Belgian sportmansship .
Unfortunatly, the outing of it at RIAT 2009 didn't go as planned. The experimental setup with a progressive flipper system with a 70*200 ram
(a brainfart of me, what was digesting for a long time)
, and the low speed due the 24V drivetrain made it kind of a mellon.
Tony took the haft in own hands, and shuffled the guts , put them in an enlarged body, recieved a new 100*130 ram, blagged 36V NiMH batteries and put all the Electronics in a armored box.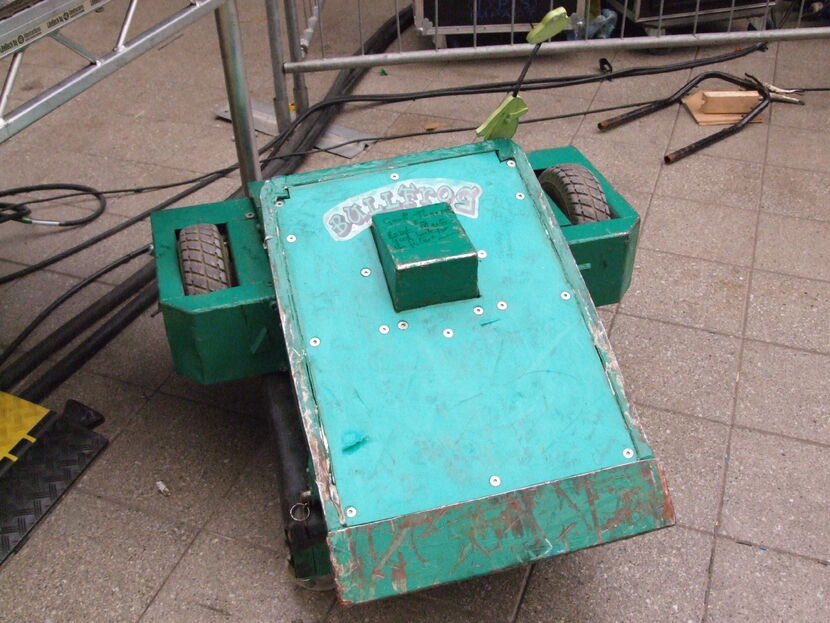 But Tony, not a Team with large heavy lumps of meat like Leo or me, had logistical issues. So, in the end, Bullfrog ended up with Team RCC after the O2 event.
And now we took it out of the Storage Shed of the Master of Toys, Leo.
After stripping Bullfrog, we got this.
A battlescarred chassis, with impacts from Thor on the steamboiler armorplate over the drives, dents from Kan Opener, and even a huge rip in a main support from the same.
After some discussions, Leo bought a set of LiFePo4 batteries. 4 sets of 5S 4200mAh blocks.
Talking to Jeroen van Lieverloo, I aquired one of the four 140mm bore FP rams made bij Kos.
(later it became an exchange for a LP buffer)
. Calculating and remeassuring, I came to the conclusion, Hannibalito 4 is a good precursor...
I measured up the old frame , and made the decision. If Leo can invest in LiFoPo4 batteries, I can cough up the Hardox 450 for a monocoque.
The early start. A 6 kg heavy thick walled 102mm diameter molybdene alloy pipe is the buffertank
(if anybody questions, pressure testing paperwork is in order, up and including to the pipe manufactoring plants chemical analysis of the steel used for this)
, and part of the frame/armor monocoque. The 1" BSP outlet to a SMC valve (simular to the one in
Tsunami
) gives us the flow of 5 Burkert 5404's in a reasonable package. Unfortunatly, I still need one of those 5404's as control valve.
The 490*530 3.2mm Hardox bottomplate gives us a firm baseplate.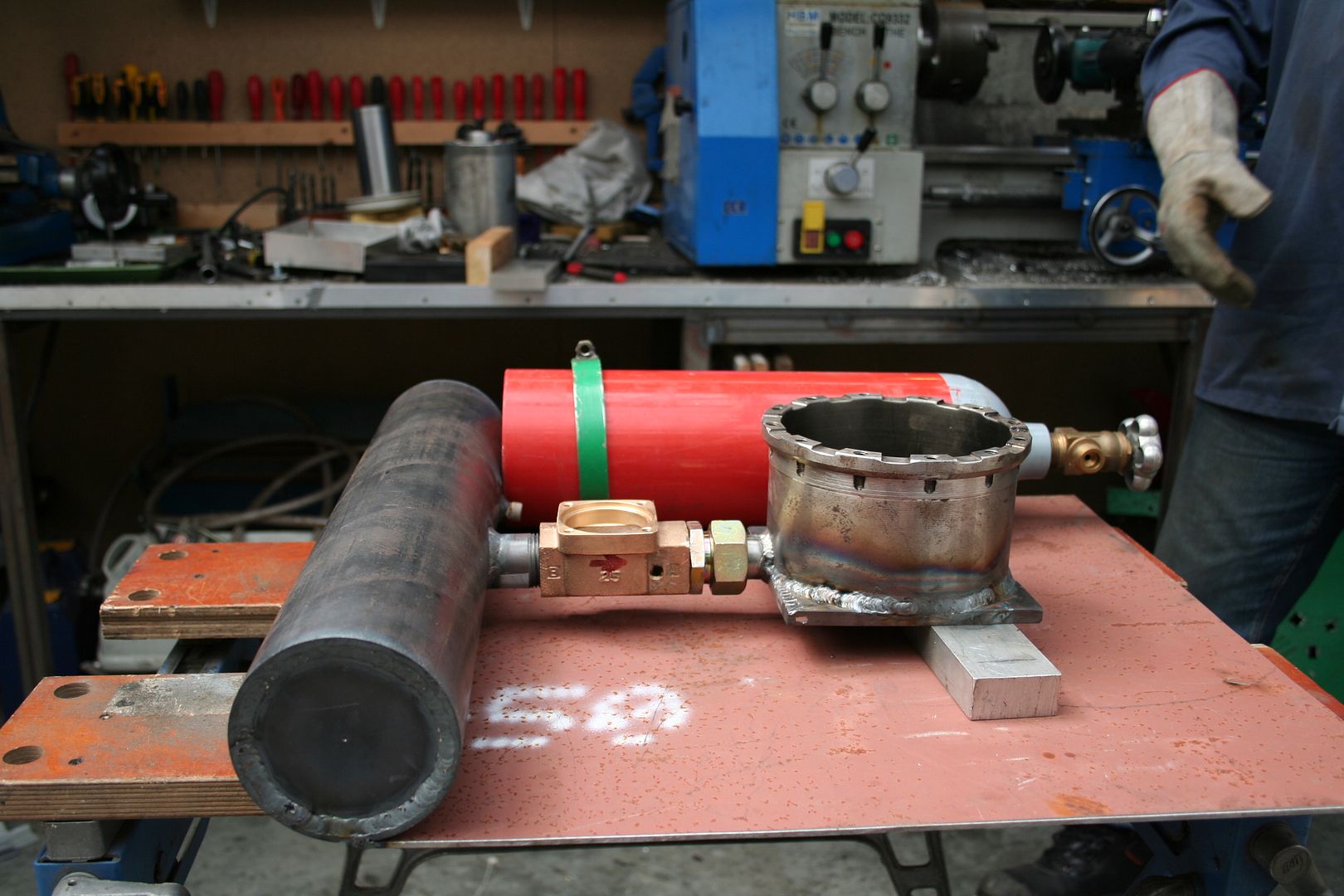 After a few days of intermittend working on Bullfrog, we ended up here.
Most important bits are in place.
The drives are selfcontained units, removable with 4 M10 nuts. Designed that way. from the start. Unfortunatly, this is a heavy way of building, 18 kg dedicated each unit. On the other hand, the power comes from the very rugged Iskra AMG 1.2 kw motors and the Kos/Inventor drivetrain is as bombproof as possible in that weight.
Still controlled by a Sidewinder , commanded with a Spectrum DX6 and BR6000. Valves will be controlled by an Inventor RC switch.
This weekend we dedicated to some fiddly bits, but also to the flipperarms.
In the end, a 140mm bore FP ram delivers 8.4 tons of Force. And that ain't a fiddly bit.