Hiya peoples.
Starting a new topic for my beetle builds, as the beater has had rather a radical design change and one is a totally new robot.
Looking at where Eggbeater failed last time (there was a lot to look at
) I changed my design accordingly. Its now a bit of a dominant mode/cake clone or generic drum spinner shape.
Having faster, more powerful motors before will help it not eat motors/gearboxes like the last one did and not having 80mm wheels will result in less motor death too I hope. These motors are a lot faster, and won't be having a massive overvolt to get speed out of them, like I did with the old MFA ones. They are the 12v 1000rpm motors off ebay run off 3s.
4wd (belt driven front ones) should improve the driving ability and give it a nice enough look. The frame is still nylon, but 10mm thick, probably with pockets or other lightening. The rest is a mix of thin titanium, thin aluminium and thicker aluminium. Will be pretty easy prey but then it will make a spectacular show
Just got to keep the massive weapon pointed at the opponents.... good plan that
Weapon felt nicely powerful in the last version but lacked omph. Felt a bit slow. will change the gearing from 3:1 to about 1.5:1 or even 1:1. Changing to a long can 28mm outrunner with a bumload of kv, torque and power may happen.
Over the last few days I've been piddling around with the idea of a lifter. Big ass servo, super legit 4wd with more 1000rpm ebay motors.
Pushed parts around in "CAD" (i.e. sketchup) and got a shape I like. Similar to Eggbeater because coolness and because it saves money on materials lol. 10mm nylon frame, 1mm titanium, 10mm and 5mm aluminium. Probably some chopping board/HDPE keep away plates somewhere. Still got a lot of work to do here, like figure out servo placement and linkages etc (using a motor is a possibility)
ATM planning to run 3s in the robot, could up it to 4 but space is an issue. Wonder if the 10a botbitz would be happy with 4 motors?
Got wedges/skirts to add to the lifter. I know it will be mostly spinner fodder. Building it for the challenge and because I really like the look over srs bidness winning robut.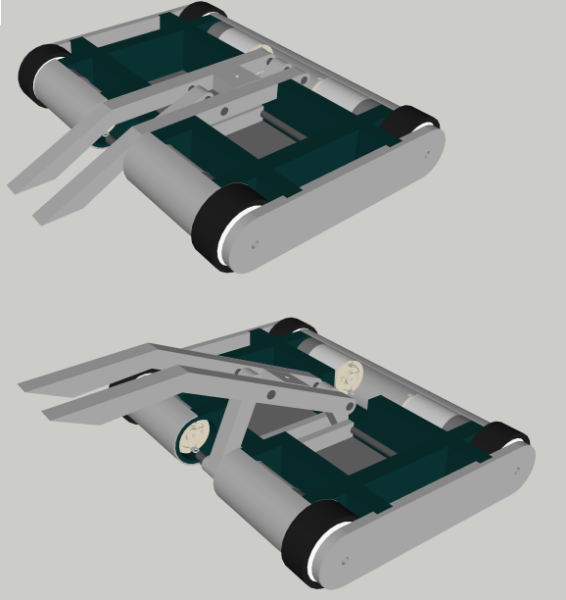 Hope to have both running at Whitwick. Will stick build pics up as and when they happen.
Cheers. Haz.