(taken from my post on the FRA)
Hello everyone,
This has come up a lot on the FRA and robotwars 101 so I'm going to make a guide on how to make an antweight robot.
So let's get started,
The Basics
Antweight robots have to weigh under 150g and fit in a 4" cube.
for more info on the rules visit
http://www.antweight.co.uk/rules.htm
Preparing the robot
Building an antweight can be very dangerous if you use tools incorrectly, so if in doubt get a parent to do it or supervise you.
First of all you will want to think of the type of robot you want to build e.g. pusher, axe, spinner(not recommended for beginners) or a flipper. In this guide we will be making a pusher.
Then start doing sketches on what you will want your robot to look like.
Then you will need to get all your components together.
Parts
This is what I used
dsm2 rx
http://www.ebay.co.uk/itm/Orange-6ch-Re
... 27c1a4ad3e
Spektrum dx5e
http://www.horizonhobby.co.uk/aeroonlin
... 6dx5e.html
160mah 1s lipo
http://www.hobbyking.com/hobbyking/stor
... _Etc_.html
300rpm micro motors
http://www.ebay.co.uk/itm/6V-300RPM-Tor
... 3366bf48bd
Sabertooth 2x5a
http://www.technobotsonline.com/saberto
... 30698.html
1.2mm aluminium
http://www.forwardmetals.co.uk/acatalog
... mm_48.html
2mm HDPE
http://www.directplasticsonline.co.uk/H
... Black/2mm/
Tools needed
Saw of some sort(preferably a hack saw)
scissors
tin snips
ruler
scribe
soldering iron and solder
drill(hand or pillar)
2.5mm and 3mm drill bit
m2.5 bolts and nuts
m3 bolts and nuts
Let's get started
Step 1
I made the base out of 1.2mm aluminium to cut it I used a hack saw. I marked out an 90mm x 110mm rectangle. I then marked 10 mm from the 90mm edge and folded both sides. To fold the sides I put it in a vice and hit it with a hammer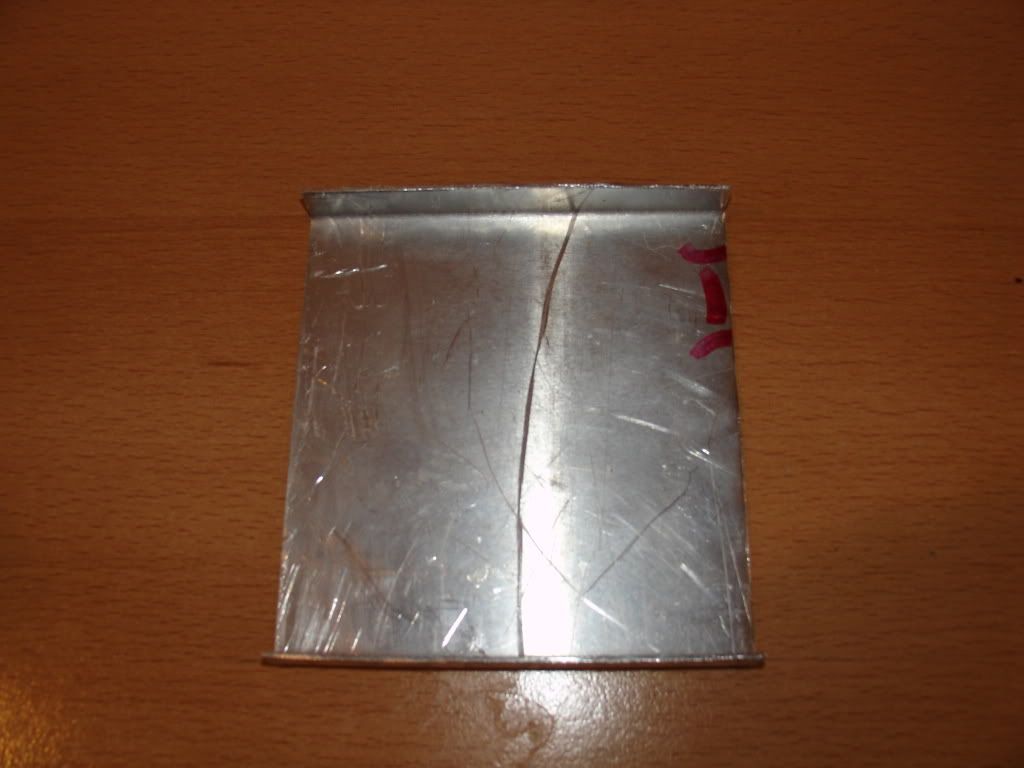 Here is it on my hand for size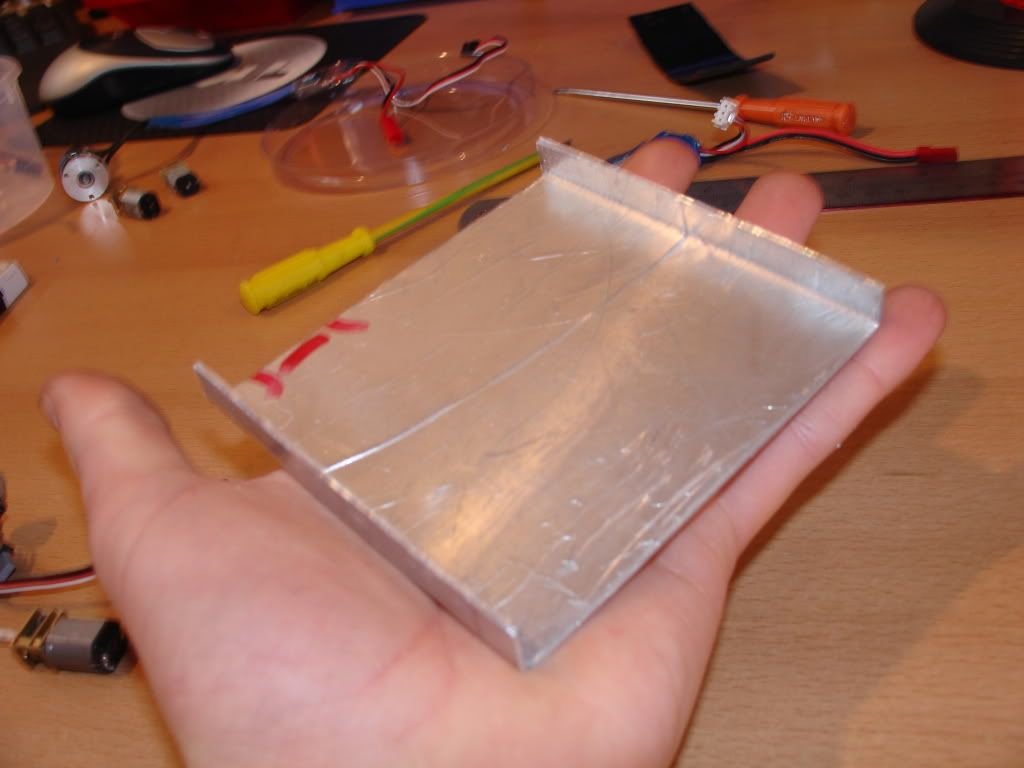 Step 2
I then got all the components together, this is what they look like
The sabertooth 2x5a with micro motors in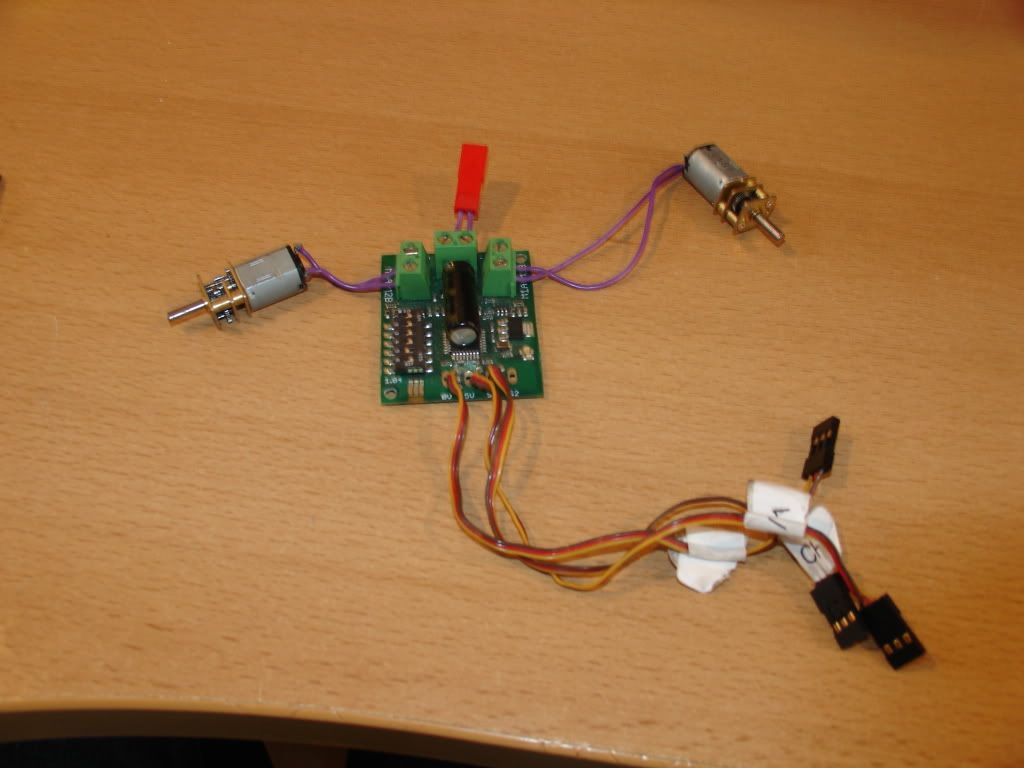 The reciver(rx)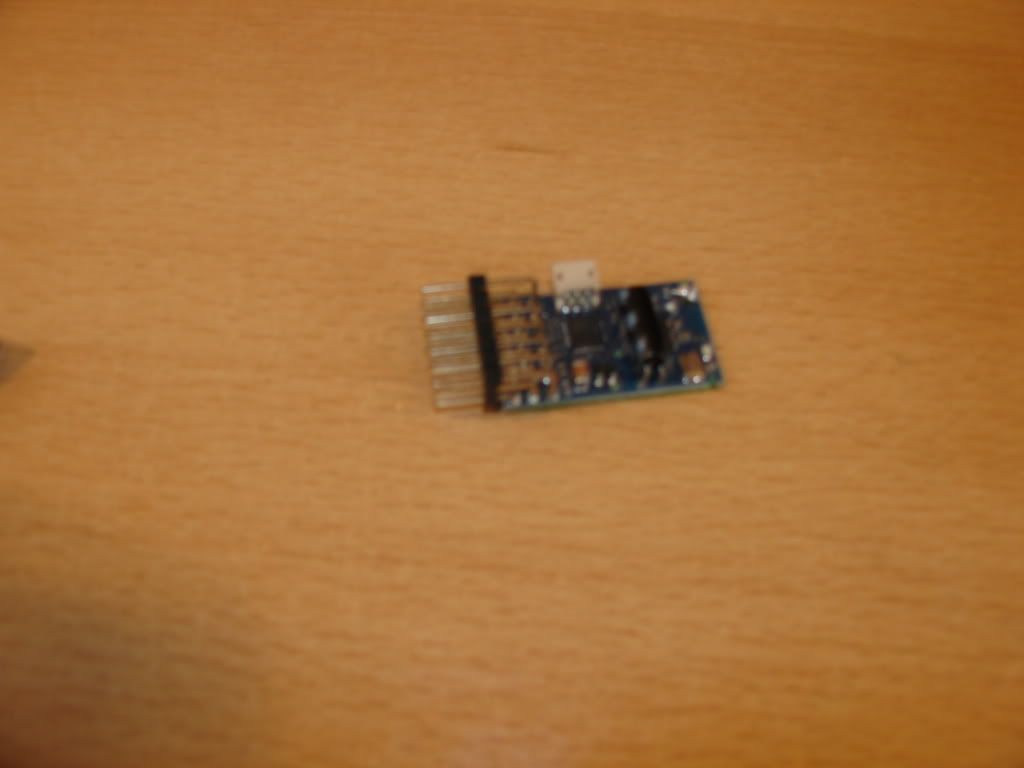 You can either use 2 1s lipos wired in series or 1 2s lipo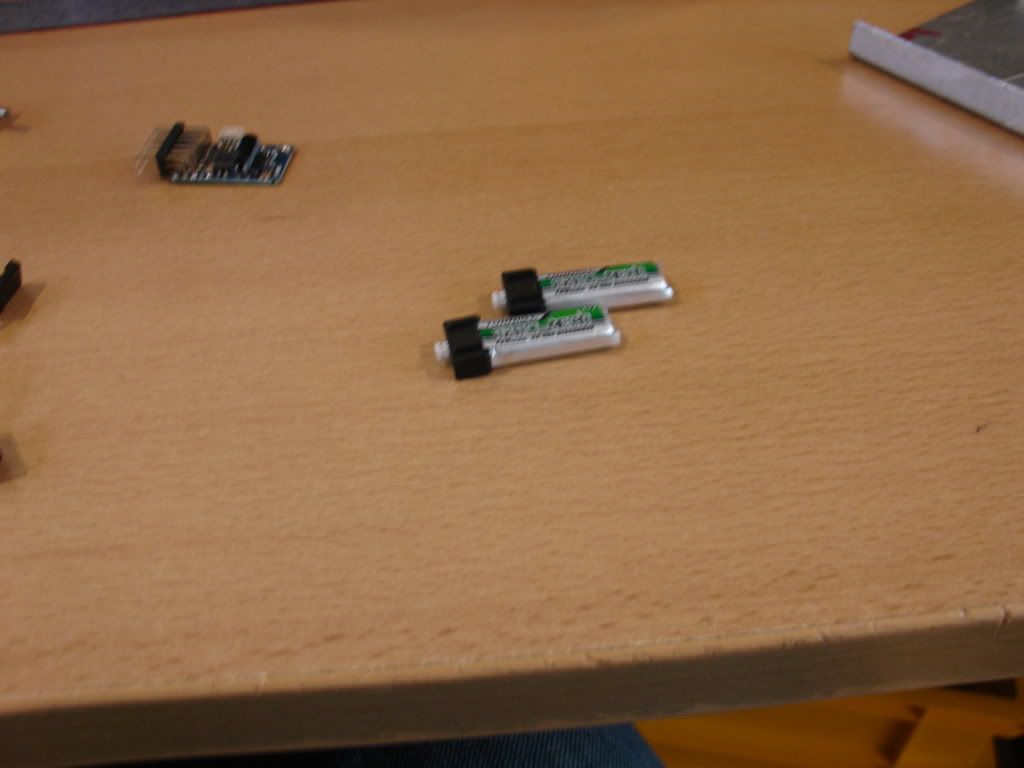 The wheels I used are Lego wheels that I modded so they screw onto the shaft of the motor directly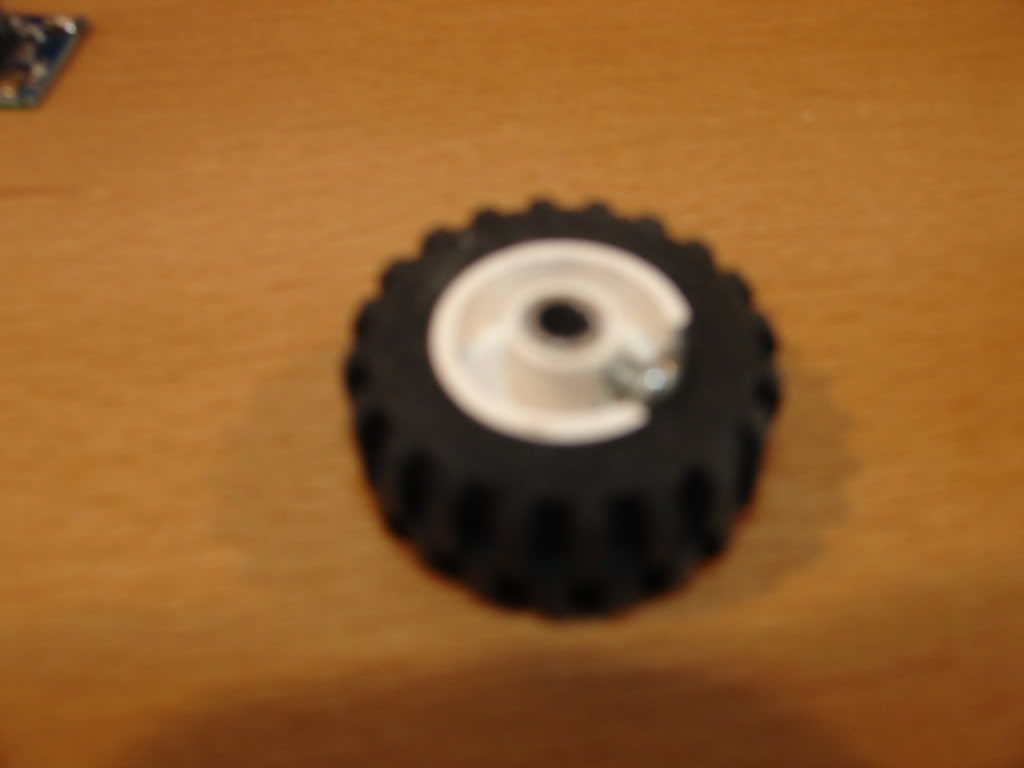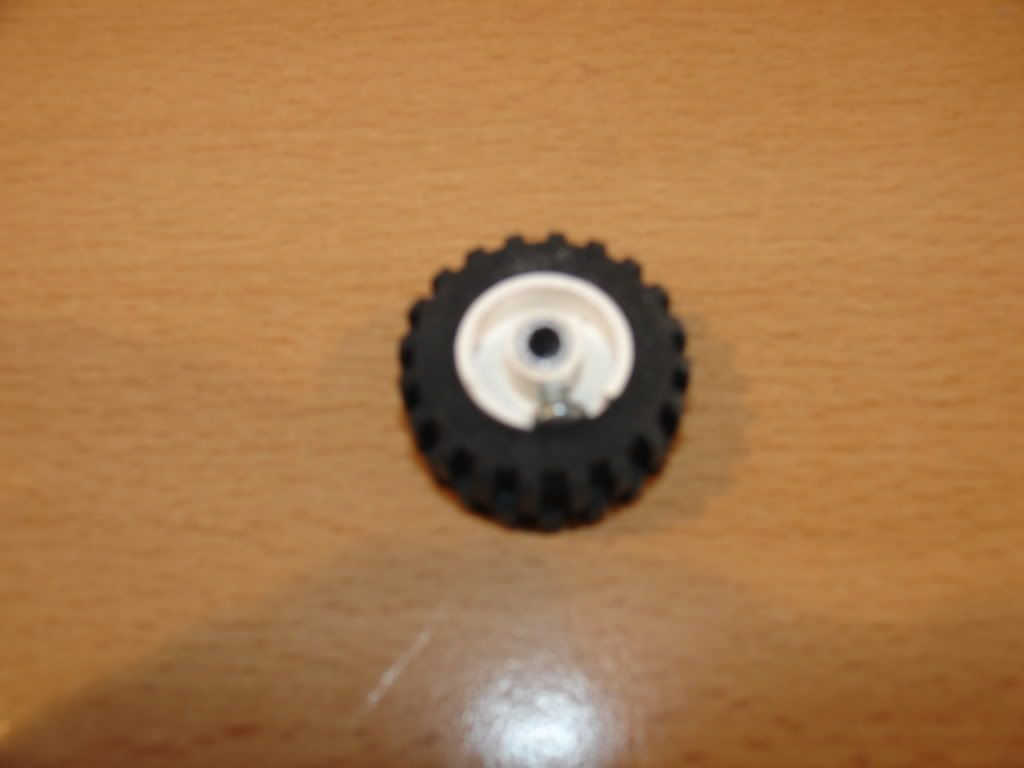 Step 3
I then placed all the components on the base to see where they would go
Step 4
I then made mounts for the motors out of 10mm x 45mm strips of 2mm HDPE.
I marked out 6mm from the edge then 10mm, then 12mm, then 10mm again.
I then got my soldering iron to heat up across the line to bend them at right angles to make this.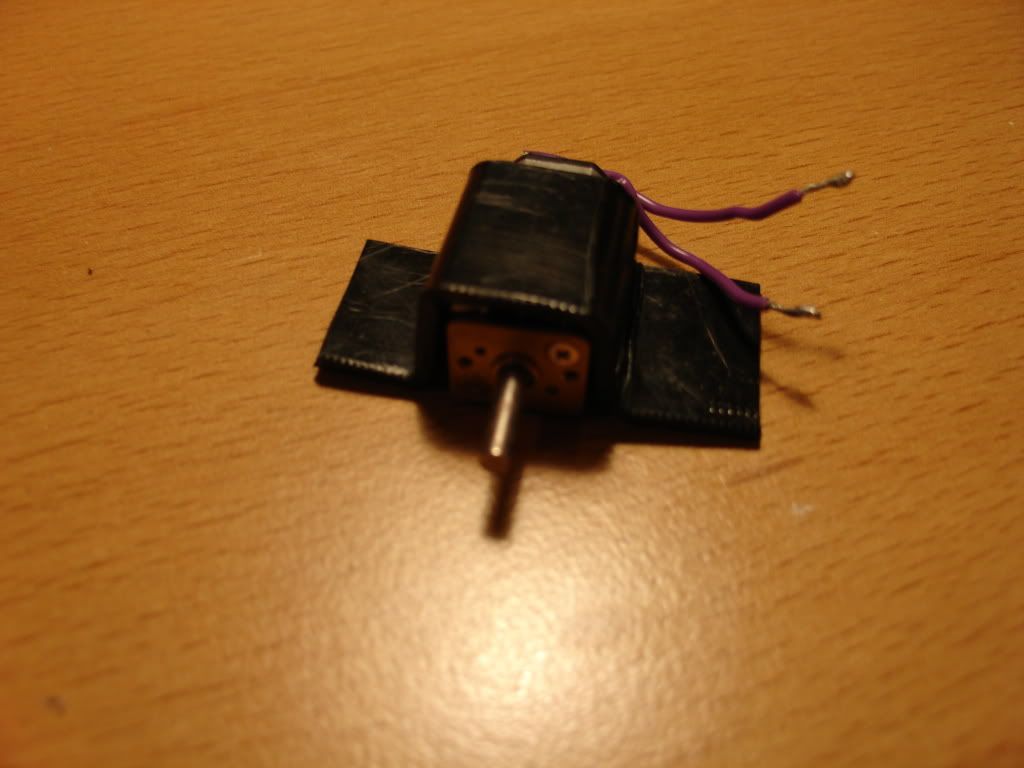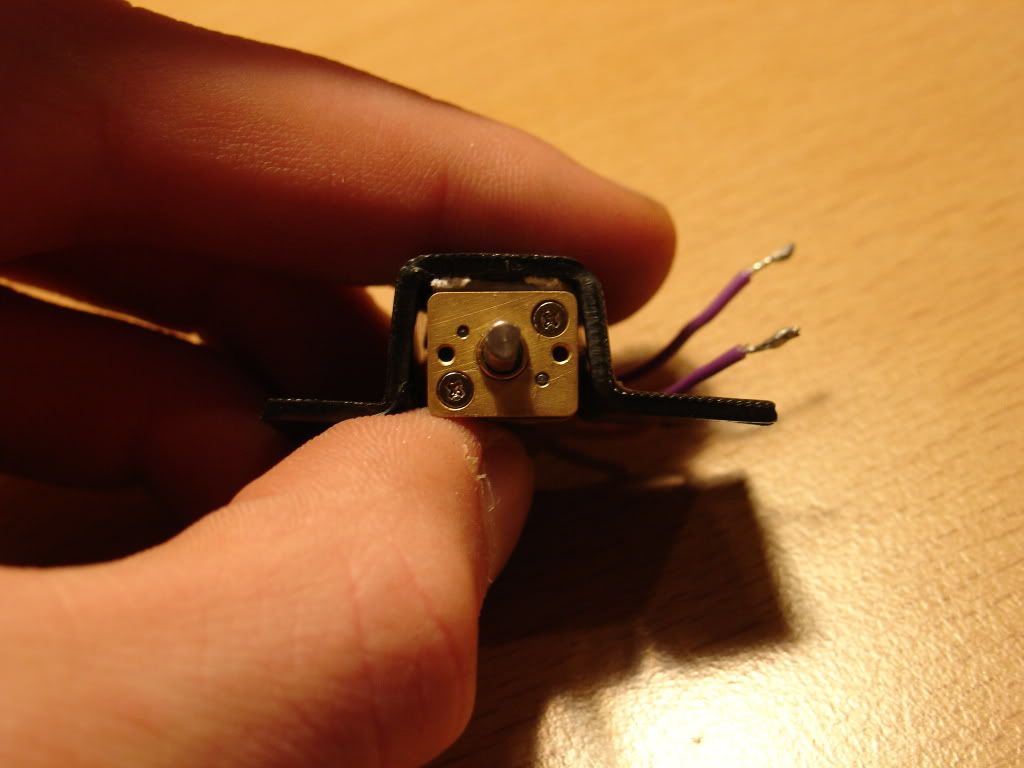 I held the motor in with double sided sticky pads.
Step 5
I marked out 5mm from the edge a 12 x 30mm rectangle, I then cut it out for the wheels to go.
I did this on both sides.
Step 6
I drilled 4 3mm holes(2 on either side) on the motor mounts to attatch them to the base. I then drilled through the plastic and into the metal. I then bolted the 2 together by using m3x5 bolts and fastened them with 3mm nuts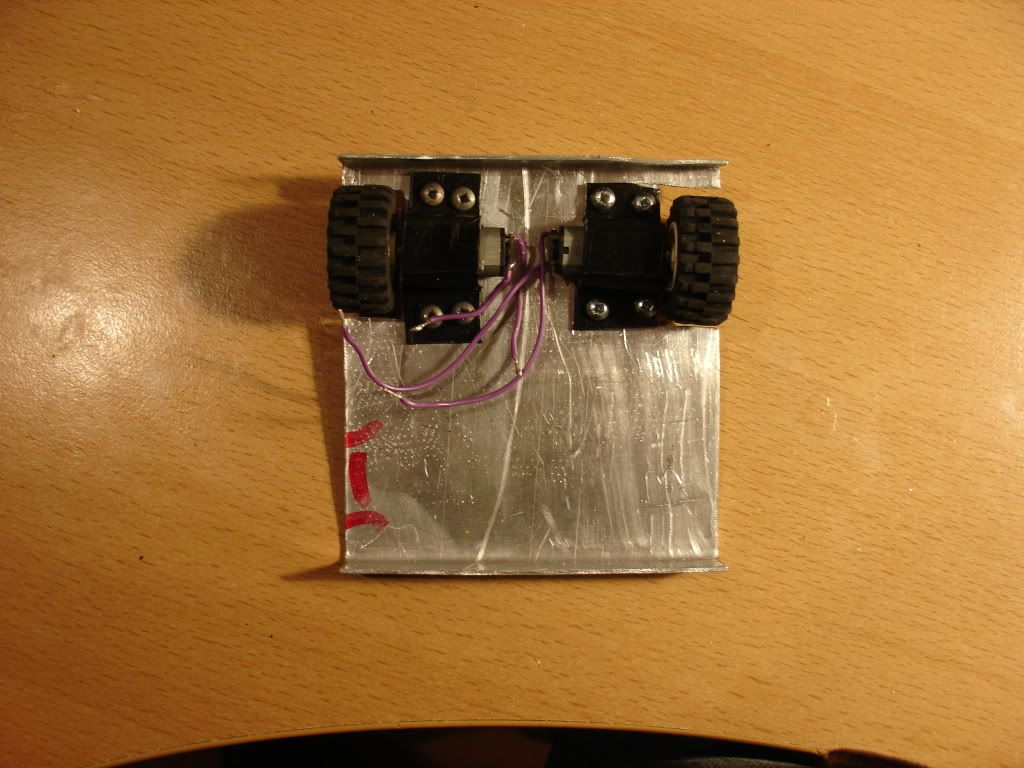 Step 7
I then needed to mount the sabertooth 2x5a. I couldn't mount it directly to the base as it is metal and it would short circuit. So I made a 2mm Hdpe base. I measured around the sabertooth, marked it on the 2mm hdpe and cut it out with scissors. I then drilled 2 2.5mm holes, where they are on the sabertooth, into the hdpe and the into the aluminium. I then fastened them together using m2.5x10mm bolts and nuts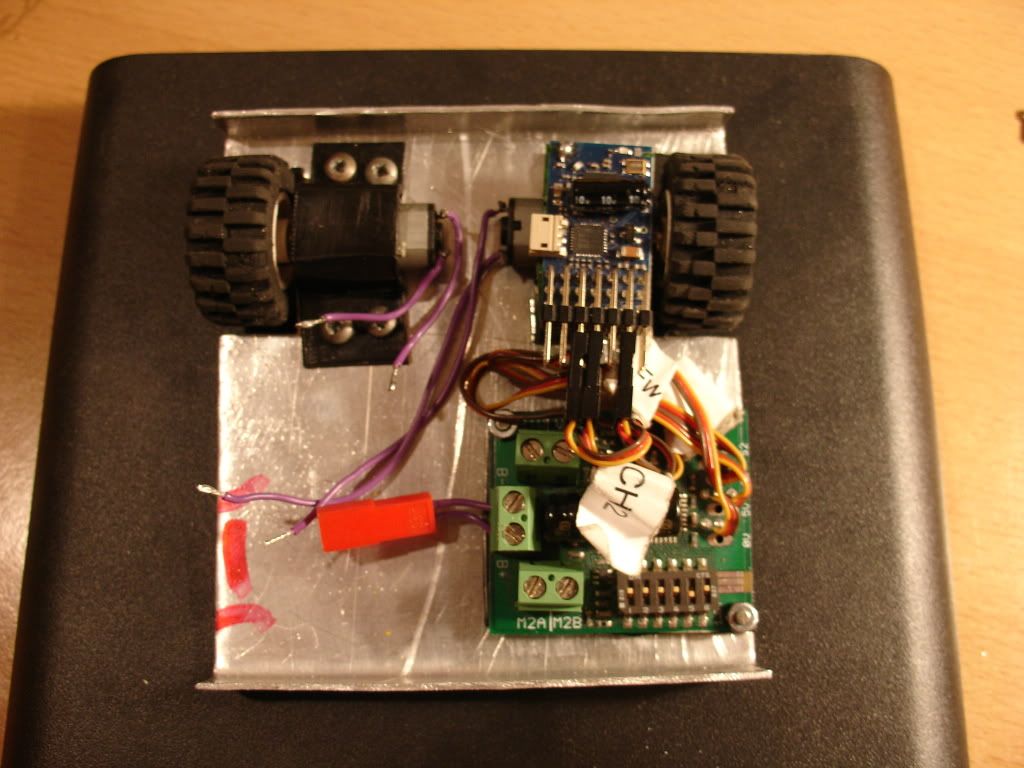 I then got the rx and put 2 layers of tape on the bottom of it so it couldnt short circuit, and then used double sided sticky pads to stick it on the motor mount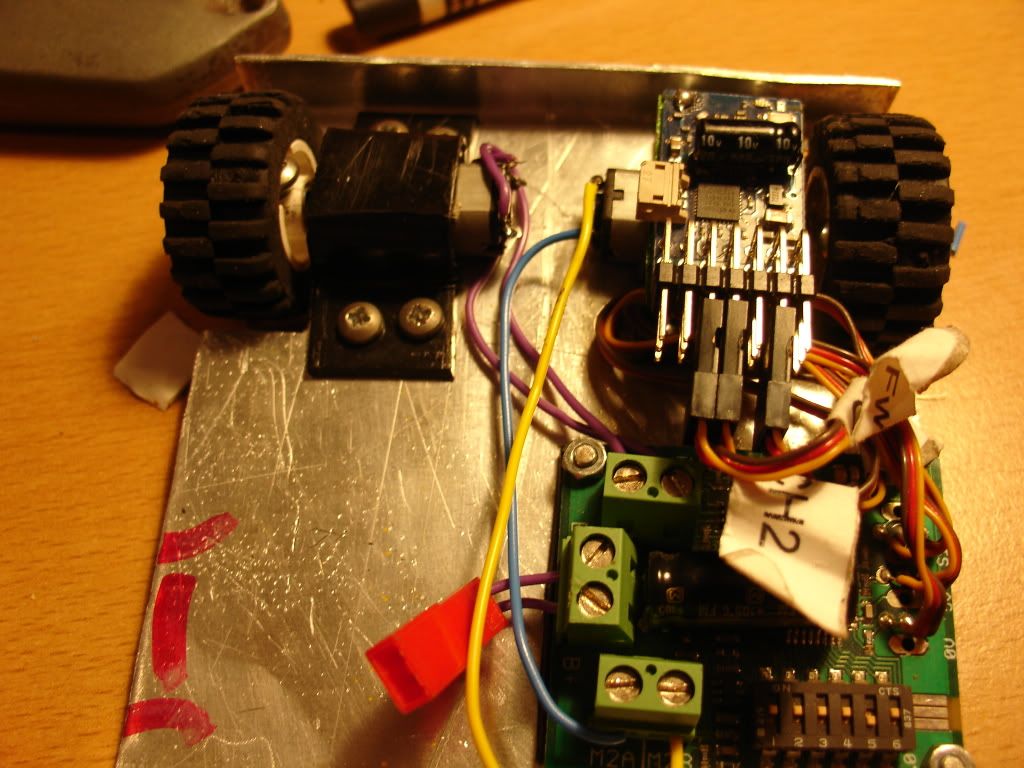 Total weight so far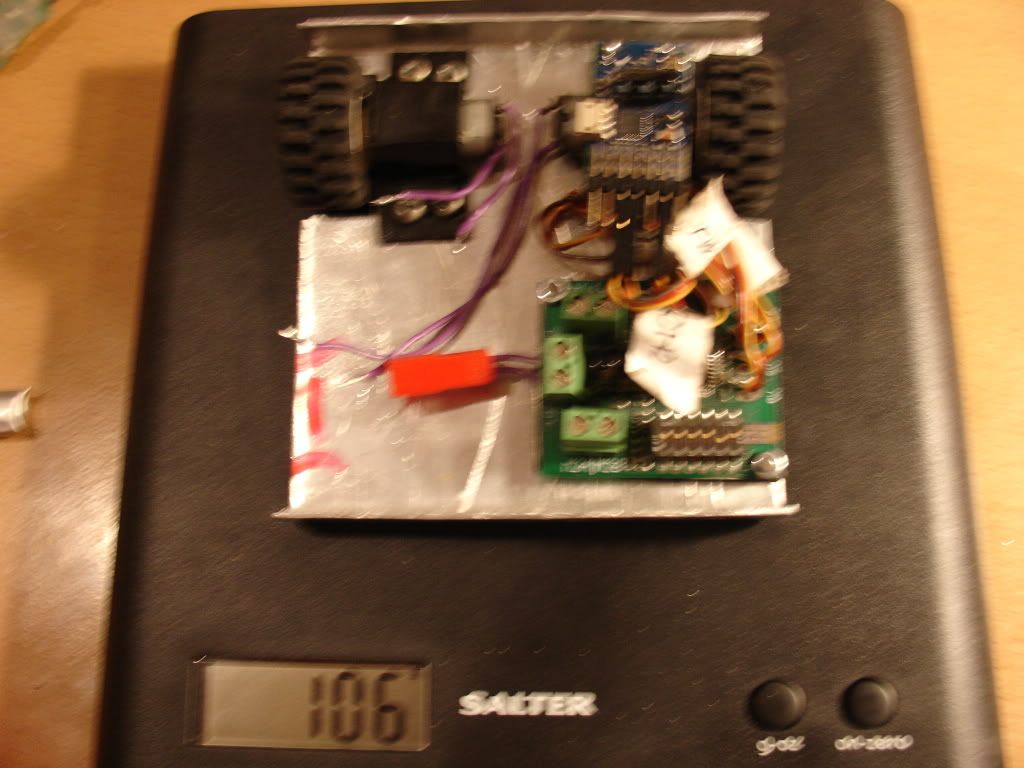 Step 8
I used double sided sticky pads to hold the battery down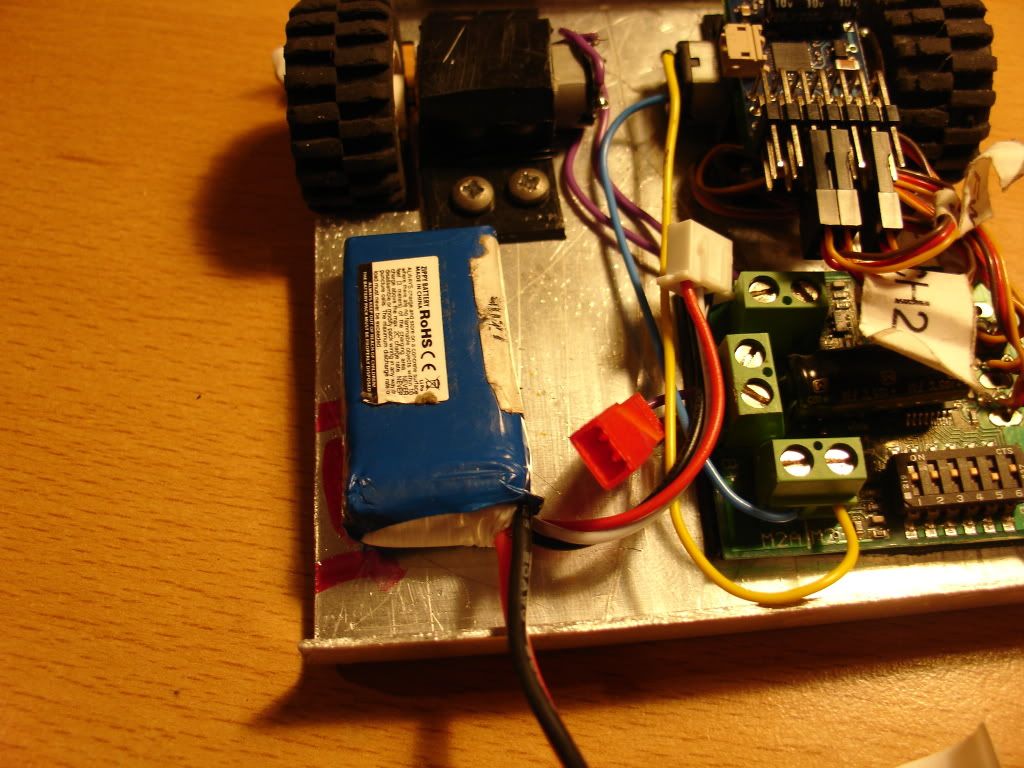 Step 9
I used 2mm HDPE as armour. I marked out a 160mm x 90mm rectangle and cut it out with scissors
I then marked 30mm from either end of the hdpe.
!!THE NEXT PART IS DANGEROUS!!
I got a pan and put some boiling water in and then put the HDPE in. I then let it heat up for 30 seconds then took it out and bent along the line to 90*. I did this on either side to make this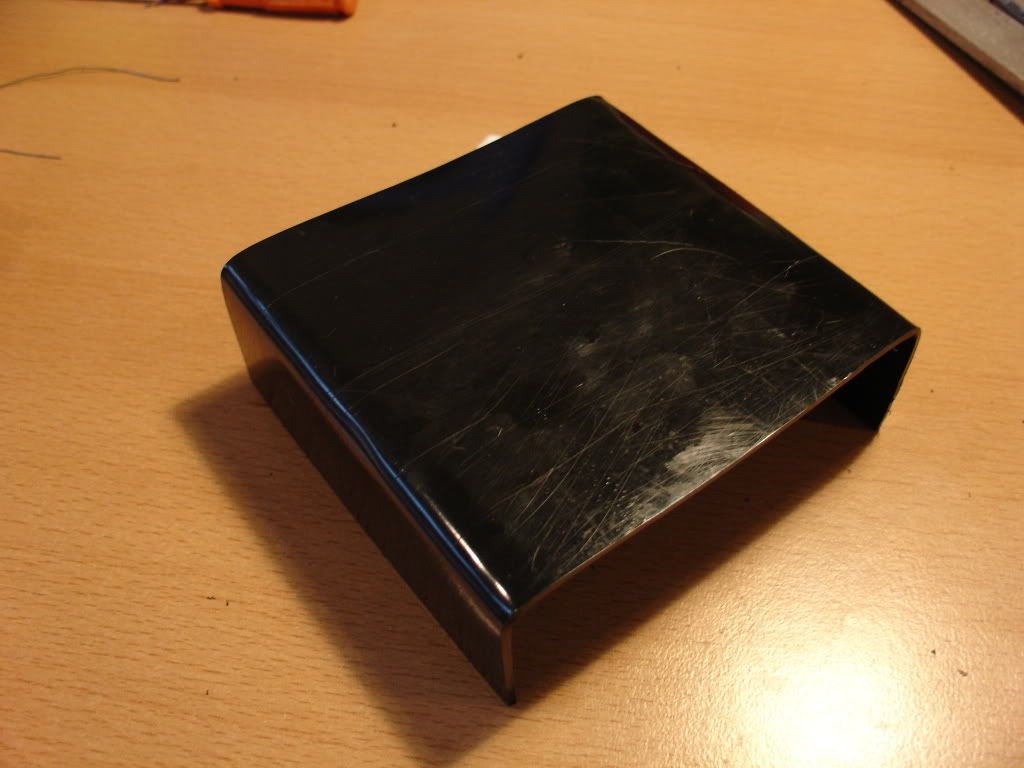 Step 10
Put the armour on your robot